Lundmarks Biografi
Translation in progress....
En av de stora Knut Lundmark-kännarna var Stockholms-astronomen Anita Sundman (1942-2010). Bl a skrev hon biografin Den Befriade Himlen - Ett porträtt av Knut Lundmark. som utkom på Carlssons förlag 1988. Till ett av det mest intressanta i framställningen hör skildringen av Lundmarks stora galaxkatalog-projekt i Lund och varför det havererade.

Om Lundmarks liv kan läsas i hans memoardel i Astronomiska upptäckter, del II (1952), i minnesboken Knut Lundmark och Världsrymdens erövring (1961).

Central information om Knut Lundmarks liv och gärning återfinns i idé- och vetenskapshistorikern Johan Kärnfelts bägge skrifter Till stjärnorna - Studier i populärastronomins vetenskapshistoria under tidigt svenskt 1900-tal (2004) och Allt mellan himmel och jord - Om Knut Lundmark, astronomin och den publika kunskapsbildningen (2009).

I några skrifter med fokus på Lunds observatorium berättas naturligtvis om Knut Lundmark: Astronomien i Lund 1667-1936 (skriven av Lundmark själv, utgiven 1937), Astronomiska observatoriet vid Lunds universitet av Carl Schalén, Nils Hansson och Arvid Leide (1968) och Lundaögon mot stjärnorna - Astronomin i Lund under fem sekler (2003, red Lennart Lindegren och Ingemar Lundström).

Lundmarks pionjärinsats inom galaxastronomin diskuteras bl a i Gustav Holmbergs avhandling 1999, med titeln Reaching for the Stars: Studies in the History of Swedish Stellar and Nebular Astronomy, 1860-1940.

Anita Sundman skrev även om Knut Lundmark i Nationalencyklopedin och gav oss en fyllig, faktafylld personhistoria i Svenskt Biografiskt Lexikon. Ur den senare (utgiven av Riksarkivet) återges nedan hela Lundmark-skildringen.
| | |
| --- | --- |
| Svenskt Biografiskt Lexikon | |
This is a SEO version of
Svenskt Biografiskt Lexikon Page 1
To view this content in Flash, you must have version 8 or greater and Javascript must be enabled. To download the last Flash player
click here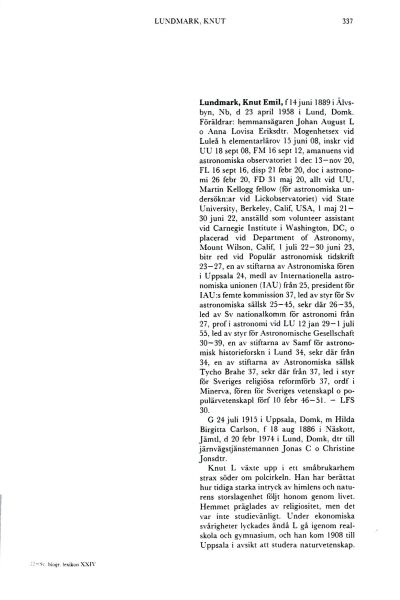 Translation in progress....

© Astronomiska Sällskapet Tycho Brahe 2012