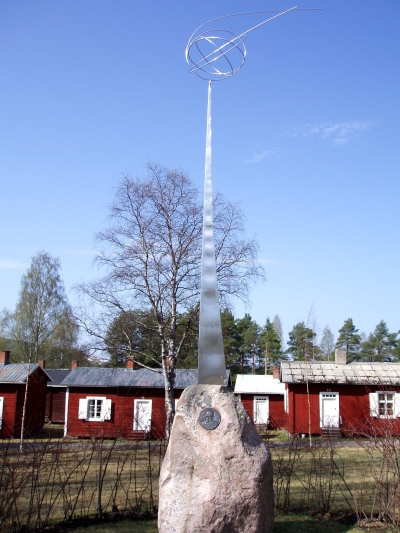 On August 8, 1976, the Lundmark monument in Älvsbyn was inaugurated. It was the country's first space monument of its kind. In 1889, Knut Lundmark was born a few kilometres from the Northern metropolis of Kroksträsk. The strange memorial was created by the dentist Kurt Swedhner and was named 'The Galaxy'.
At the inauguration of the monument, Lundmark's confidant friend Martin Johnson said (the speech reproduced in the magazine 'Värld och Vetande' 1976:10):
'Finally, I would like to express my warmest thanks to my friend, dentist Kurt Swedhner, who together with his wife, Britta, created the artistic design of the memorial.
Swedhner and his wife have designed the memorial with love and taste and without their dedicated efforts in work and talent, the memorial had not existed. One reason for this may be that Kurt Swedhner had a father-son relationship to Lundmark.'
The words on the Lundmark monument goes like this:
'His genius forced the boundaries of the Milky way, sounded the shattering depth of the world of space and revealed a universe of unprecedented dimensions. From the gloomy spots of the sky, the spiral nebulae he boldly discerned a Milky way of Milky ways.'
In connection to the inauguration, a tribute telegram arrived from H W Babcock, Observatory Manager at Mount Wilson and Palomar Observatories.
This is what the jury said: 'Knut Lundmark never forgot the countryside where he grew up and he was proud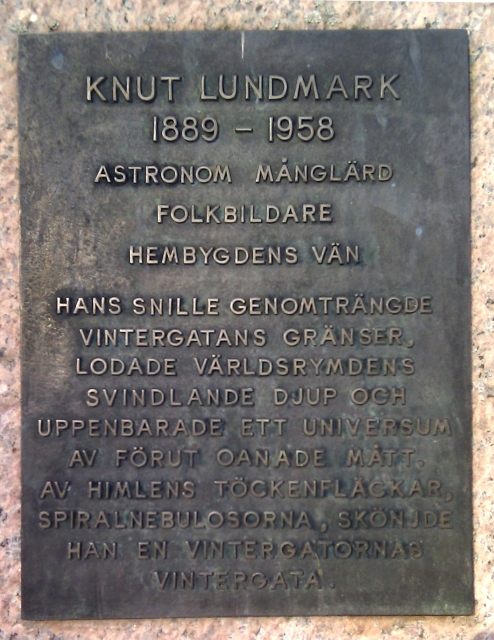 of his origin. The jury wants to honor Knut Lundmark in this way by naming the world's most modern school after him. Knut Lundmark school will convey the feeling that regardless of your background, it is your own ability which will pave the way for the future, a future where our children and students own the possibilities. Knowledge raises - Wings carry.'
The author will like to express his great gratitude to the municipality of Älvsbyn, which helped us with the illustrations, especially Kjell Tegnelund, Culture and Recreation Manager.
PS. In September 12, 2012, the Knut Lundmark School in Älvsbyn was opened. The school has been built as a replacement for Lekenskolan, which was completely destroyed by a fire in 2009. As the new school building began to take shape, the municipality decided to arrange a name contest, and Birgitta Olsson Seb from Vistträsk won with her proposal.