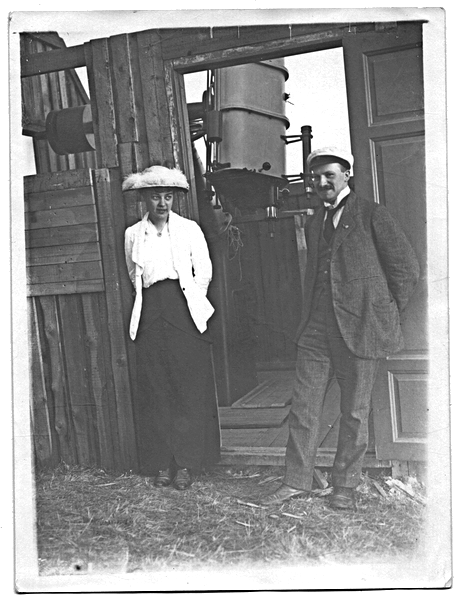 Eclipses in a strange way came to encircle Knut Lundmark's life. Already when he was 25 years old he visited Österfose, Lappland (1914) as an assistant to help his benefactor Östen Bergstrand, professor in Uppsala. On the picture to the right he is, by the way, seen with another of professor Bergstrand's assistents, Miss Andrea Lindstedt. Foto: Uppsala University.
That Lundmark later in life became fascinated by these celestial phenomena was not strange. As a popularizer of science he soon realized that eclipses represented an effective pedagogical entry to widen the educated public's interest in astronomy. After all, even Tycho Brahe became interested in astronomy as he as a teenager had experienced a partial eclipse in Copenhagen.
The two total eclipse's 1945 and 1954 – visible in Sweden – lured out the popularizer Lundmark which is proved by two publications: Solförmörkelser förr och nu (Eclipses in Earlier and Modern Times), 1945, and Dagmörkret över Sydsverige den 30 juni 1954 (Daydarkness over Southern Sweden 30th of June 1954), (1954) – the later book printed in two editions and sold in more than 11 000 copies, a bestseller at the time.
In his book 1945 Lundmark, by the way, does not hesitate to point out the Uppsala Expedition to Österfose 1914 as the foremost of the four Swedish Expeditions. Several photos were taken and Östen Bergstrand could in due time, owing to those photos, understand the form of the solar corona in space.
In the book some diary notes are cited "by a participant in the Bergstrandian expedition" – it cannot be anyone but Lundmark himself who have handled the pen! [Här saknas på svenska – och engelska – vad dagsboksanteckningen sa. Blir poänglöst utan något citat.]
It was during the eclipse 1954 as the amusing picture of Knut Lundmark in a pilot's helmet and his close associate was taken. The gentlemen followed the course of events from one of the planes of the airforce, taking off from the airbase in Halmstad. (Photo from Lundmark-collection.)
Also in 1945 Knut Lundmark followed the totality of the eclipse from an airplane.
Ulf R kompletterar här med lite Cassiopeiaplock om förmörkelsen.
Reader's tips:
Östen Bergstrands research about the solar corona in 1914, which he proposed to extend up to ten solar radii can be found in Bergstand's own major Swedish publication Astronomi (1935) (Astronomy).